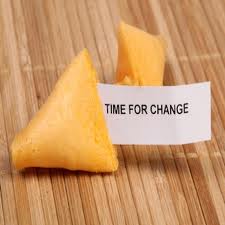 Like many others in a helping profession I want my clients to embrace change in order to move forward. It's easier said than done and I am guilty of dragging my feet when change will disrupt the status quo.
I have a second bedroom that I used as a guest room for the past 10 years. When I started my own business 18 months ago, I flirted with the idea of converting it into a home office. Reticent to change, I instead created a makeshift workspace using my dining room table. As time went on, I ended up with work stuff scattered throughout my home. Increasingly, I became disenfranchised with the setup. I was feeling unorganized and my home was being overrun with work. However, I muddled along because I was concerned about losing the guest room. The "what ifs" were working overtime. In other words, I was generating excuses for not initiating change.
I was beginning to resent working from home because it was overtaking my life. I even contemplated moving in order to have a guest room and separate office. That seemed a tad drastic. Finally, I decided that I needed a home office; a place where I can work that was separate from the rest of my home. Operation home office was put into motion. Obviously, I needed to make sure that our internet was quite speedy so I wasn't getting frustrated, luckily there were AT&T internet bundles to check out for example. I wanted to look around to find the best deal.
Once my office was set up, I could not believe how great it felt to have this dedicated space. Turns out this room, has great sunlight and a view of trees that I never really noticed before. All my existing furniture fits perfectly and creates a pretty cool office space. And, since I was planning to add a few decor pieces to the space, I was suggested to get some discount coupons for Home Depot from Raise, so maybe I'll get to that next. Now, my entire business is organized into one central location. I am more focused, productive, and happier when I work.
All my "what ifs" have evaporated and were replaced with "why didn't I do this sooner". The change was easier than I thought and met with good fortune. I gave the bed along with some other items away to someone who could really use them. I took a fresh look at the rest of my home and made some changes that generated a positive impact. In fact, I found a new sense of harmony and appreciation for my living space. Sometimes, we have to embrace change with an open mind in order to reap the biggest benefits.
What changes are you waiting to make? What's holding you back? How will you overcome the "what ifs"?