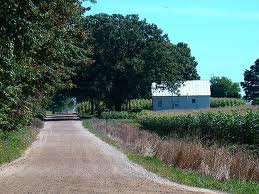 At least once every summer I visit friends who have a summer home in southwest Michigan. This year was no exception. Late on Sunday morning the four of us decided to take a bike ride into one of the neighboring towns.
Using the sparsely traveled back roads we passed acres of small family owned farms that supply the many farmer's markets in Michigan, Indiana and Illinois. A little more than halfway to our destination one of the bikes got a flat tire. We stopped in front of a well maintained yet understated ranch home. The tire needed to be patched and thankfully we had a repair kit and pump.
Just as we were laying down our bikes on the lawn's edge to begin repairing the tire, we see an elderly gentlemen coming out of the garage walking toward our huddled mass of bikes. Anticipating a disgruntled homeowner who didn't favor us being on his property, we began to loudly reassure him that we were just fixing the tire and wouldn't be on his property long. As he ambled toward us with the help of a walking stick, we kept saying that we just needed a few minutes to fix the tire. When you're on someone's property in a remotely populated area, you're never quite sure how he or she will respond.
Thankfully for us, we had the good fortune to meet George. He couldn't have been more helpful asking us repeatedly if we needed anything. We said, that we were "ok" and had it under control. Turns out, however, we needed George's help. The glue in the repair kit had dried up. George was quick to say that he had plenty of glue in his workshop and offered us three choices. We graciously accepted the options and continued to work on the tire.
We said that we were fine and he needn't stand by thinking he had better things to do. "That's ok, I like to help people," he said genuinely. He was steadfast in staying with us until we had the bike up and running. We learned that George was 95 and one of eleven siblings, four of whom are still alive. A retired farmer, who lived in this area all his life, moved into this house after they sold the family farm. His wife of 65 years, Helen, came up from the house to see how we were doing. As we finished, we thanked them for their help. They reassured us that if we needed anything else to stop back.
What struck us was how this lovely couple were so welcoming and open to four complete strangers from the city. We all felt enriched having met two generous warm-hearted people. It served as a reminder to keep an open mind and to help others generously.