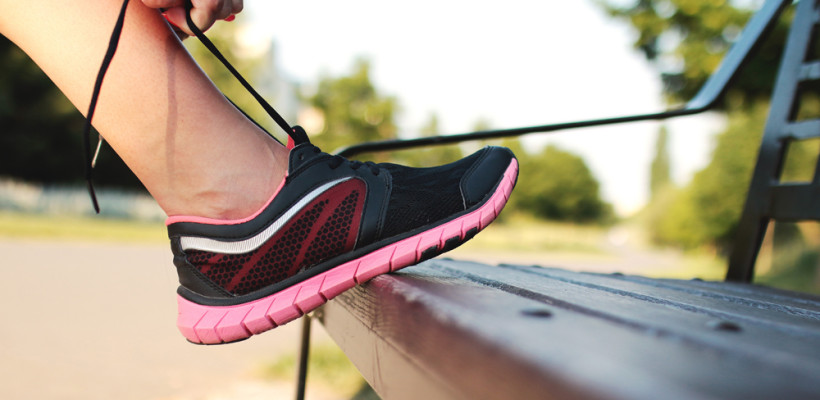 An interview with Jeanie Caggiano, Executive Creative Director at Leo Burnett
Peter: What inspired you to buy a treadmill desk?
Jeanie: I read an article last year that said sitting more than six hours a day makes you 40% likelier to die within 15 years than someone who sits less than three hours, even if you exercise. Well, most of my days are spent sitting in meetings.  So the article made me think, but I didn't do anything about it. That all changed during a family visit, when I told my youngest sister, Neva, how great she was looking. She said it was because she'd gotten a treadmill desk and lost 15 pounds. She works out of her house as a webmistress and easily spends her entire day on the computer. She'd read the same article, but did something about it—got a treadmill, mounted her monitor on the wall, put the keyboard on a slab of fiberboard, and started walking all day. My brother, Russ, who also works from home, went out the next week, bought a used treadmill and fashioned his own desk. All around me it was happening, so I asked for one as a birthday present. I've been walking and working ever since.
Peter: Now you have me thinking about all the time I spend sitting at a desk. How do you use the treadmill desk?
Jeanie: Primarily for email and writing. It makes me feel like I'm not wasting time on mundane stuff like email. I also find the motion is helpful when I have to buckle down and write or concentrate on solving problems. I have found the best writing speed is 1.7 mph.
Peter: It looks pretty tricked out. Tell me about your setup.
Jeanie: I had to attach my laptop to a large monitor so I can work at eye level. My keyboard is in front along with my phone and headphones. It's super convenient, everything I need is right there.
Peter: What has been the reaction from others?
Jeanie: It's a little odd in an open floor plan office since I'm above the cube walls.  I see a lot. I get a lot of attention, as people want to know how it works. I'm known as the "treadmill creative director."
Peter: Do you talk to people while you walk?
Jeanie: No, I found that I was looming over people and I didn't like the notion of talking down to them. Thankfully, I still have a couch, so I use that as a meeting place. It's good to have a place to sit sometimes, too. Handwriting while on the treadmill is impossible.  But talking on the phone is good.
Peter: How much are you walking?
Jeanie: On average, an hour or two a day. I'm in meetings a lot.  The most I've ever walked in one day was 5 hours.
Peter: Has it impacted how you feel?
Jeanie: While it has helped my posture, for me, it's been more psychological than physical. I like the fact that I am doing something good for me. It keeps me warm during the winter. And it makes me feel better about the time I spend sitting in meetings.
Peter: Have people asked to try it?
Jeanie: A few. Some ask if they can run on it, which you can't.
Peter: Can you eat while on it?
Jeanie: Yes, I dial down the speed. But I have found myself wearing more black since I'm really good at spilling on myself.
Peter: Speaking of clothes, what's been the impact on your wardrobe?
Jeanie: More pants and flat shoes. I keep a pair of Nikes at my desk, so even dresses work, though.  Pencil skirts, not so much.
Peter: You seem to have found a way to still be stylish. Is anyone else joining on the bandwagon?
Jeanie: Yes, our head of communications, Amy Cheronis, inherited one from a departing executive. We've swapped tips.
Peter: Maybe companies should outfit conference rooms with treadmills.
Jeanie: I've read that some companies have them available in common areas for people to use.
Peter: Any plans to have one at home?
Jeanie: Maybe, it sure would make paying the bills feel more productive.