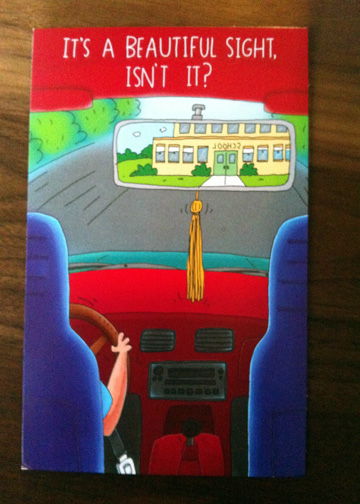 This year my niece graduated from high school. As clichés go, "it's hard to believe she is all grown up." She's an accomplished athlete in soccer and hockey as well as in academics. She's a fantastic person with a bold future in front of her as she heads off to college. I saw this card and it immediately grabbed my attention. High school graduation is one of those seminal moments when you realize your past four years are not your future.
The same holds true for retirement. A former boss recently retired after more than 30 years with the same company. At his going away party, colleagues regaled in tales from the past, notable achievements and the bonds of friendship.
While both are excited about the future, it's not without trepidation. Each recognizes they are leaving a "good" past behind and entering a period of transition and change. Having spent time with both of them, I can tell it won't be easy. One is nervous about the unknown and the other is wary of losing life long connections.
This left me to wonder, what does it take to leave the "good" past behind. I offer up three tips:
1.  Celebrate the past
Take the time to reflect on your proud accomplishments, the people you have met and the experiences you treasure.
2.  Imagine the future
What are you looking forward to? What do you want to learn? What new people do you want to meet?
3.  Live in the present
Stay connected to people you care about. Stay active. Stay positive. There's no better place than the here and now.
What tips do you have for leaving the "good" past behind?